Top message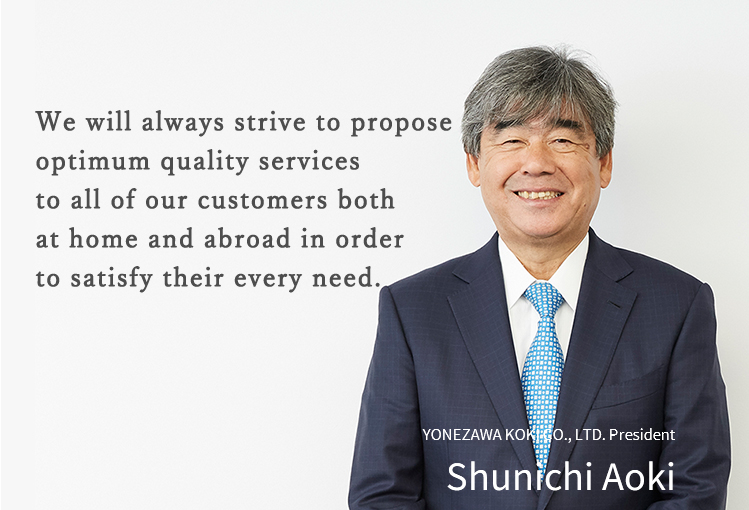 "YONEZAWA" celebrated its 60th anniversary in 2017. Through the past 60 years of our business, we have been trying to contribute to the economic growth of our customers as well as of Japan. But this is just a transit point.In recent years, the manufacturing industry is facing growing demands for global challenges.Under these circumstances, we cannot remain at a standstill but rather we endeavor to sustain the challenge of solving customers' problems and contributing to society.
Based on our motto of ​​"always offering optimum quality service both at home and abroad", we have developed our global business by setting up our service bases in Japan as well as in foreign countries so that our customers can feel more comfortable to in using our service.We will actively interact with various related parties such as our supportive customers, partner companies, local communities and countries,and with their cooperation, continue to make effort in creating better social values.
Our business is not only providing facilities and services that our customers request.By incorporating YONEZAWA's knowledge and ideas, and by making full use of Yonezawa's global network, we offer our customers proposals that solve their problems.The production innovations represented by IoT and AI are bringing accelerated changes to customers' businesses.Therefore, we also have to be ready for these changes in order to offer appropriate new proposals to our customers. It is our desire to help to further improve their productivity.
We will continue with utmost effort to always provide optimum quality services to our customers for the realization of their dreams, and aim to improve the corporate value of "YONEZAWA" as well as to create better social values We would greatly appreciate your continued support and understanding.